Maximize your closet with these space-saving closet tools!
Storing your clothing and accessories in a way that makes them easy to access and put away is pretty much the goal of this entire series of posts! No matter your closet style, no matter what you store in your closet, I want to make your life EASIER. Here are my tips for choosing the right closet storage tools for you.
Remember: whenever possible, use or repurpose any closet storage tools you already have on hand. Decluttering your closet only to clutter it back up with organizers is not the goal here, and using or repurposing what you have makes economical and ecological sense.
Shoe Organizers
Shoes do not belong in piles! It makes them hard to find and easy to damage. The cheapest option is to keep them in their original shoe box. They're stackable, fairly sturdy, and you can use a written label or picture on the front to identify which shoes are where. Shoe organizers are usually better space-savers. Check out this one made of recycled plastic bottles!
Stackable Containers
I love labeling containers clearly and precisely, but the easiest way to know what's in a box is for the box to be see-through. Transparent, stackable containers are fabulous for shoes and accessories–but they're not the most environmentally friendly. If you're in the market for clear plastic, I highly recommend that you check out your local thrift store before buying new.
More environmentally-friendly options include these stylish boxes, complete with a little label and made out of recycled material!.
Sliding Shelves
While traditionally used in the kitchen, sliding shelves can be just as useful in the closet. Sliding shelves make the back of your closet just as accessible as the front, so you don't have to ration precious easy-to-reach space! Install some of these and make a pull-out shoe or accessory shelf! Super cool.
Hangers
There's a hanger for pretty much every type of garment. Shirt hangers, pants hangers, and skirt hangers are each crafted to support their particular kind of garment.
Consider your hanger materials, too. Wire hangers get a lot of hate for distorting clothing and sagging over time, but they sure are cheap! Plastic hangers are a slightly better option for your clothes, but clothes can slip off them. Felt-coated hangers are great for grabbing onto garments, and wood hangers are sturdy and look nice by themselves. These hangers by Simply Green are made of recycled materials.
Accessory Rods
Extendable and/or foldable storage solutions are a great way to maximize space and cut down on clutter. This extendable clothes rod hides away when you don't need it!
Purse & Handbag Organizers
Bags are usually one of the bulkiest items found in closets, so make sure you're storing them as efficiently as possible. These hangers function just like clothes hangers, or you can try shelf dividers to keep handbags protected and easy to access
Scarf, Tie, and Belt Holders
With scarves, ties, and belts, the important thing is to make sure they're kept in a compact way that doesn't damage them. You can roll them and put them in a drawer, or use custom hangers to keep them separated and untangled. This scarf hanger from Bed Bath & Beyond is a nice option.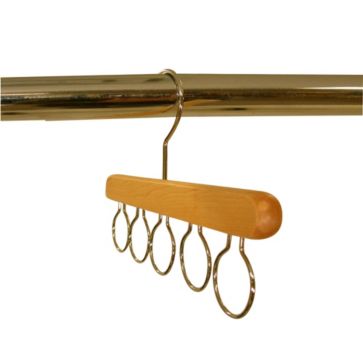 What would you add to my list of space-saving closet tools? Tell me in the comments!
Like and share - it helps us out!